Material Characterization and Failure Analysis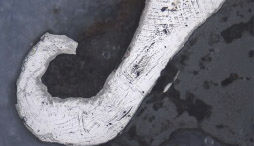 As specialists for innovative solutions in the field of materials and surface technology, our main business includes analysing and investigating the reasons for material failures caused by chemical reactions, mechanical stress or material changes resulting from the manufacturing process or during operation. This includes not only the examination of damaged parts in our laboratory, but also the detection of damage, the extraction of samples and the analysis of the causes directly on site.
Our services in the material testing sector allows our team to offer you professional metallography, analytic and mechanical tests to examine your material, surface structure and/or case of damage.
The focus is always on your specific material problem, regardless of whether you choose our consulting services or our "complete package" of consulting, testing, analysis and optimisation. The prompt and careful processing of orders is just as much a matter of course for us as the delivery of professionally substantiated results and recommendations!
Please contact Dipl. Ing. Johann Widl and Dr. Irina Sieber with your questions regarding material characterization and failure analysis.
You want to take a closer look at your material or penetrate deeper layers? We can do that for you:
With a universal testing machine of the company Galdabini we offer the following services: