Corrosion and corrosion testing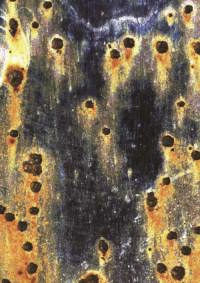 - Recognise - Understand -Prevent
Whether failure / root cause research or new development, we support you with our expertise in corrosion and corrosion testing.
The first step is to identify or determine the requirements or loads for the components in order to be able to select the optimal test for your application. With this knowledge, we can provide you with further support on development as well as expert advice regarding the use of optimal materials.
Our test programme includes electrochemical characterisation, standardised classical corrosion tests or requirement-specific corrosion tests, which can also be specially tailored to your application as "Tailored Corrosion Tests" outside of common standards. These requirement-specific corrosion tests include, for example, the investigation of the media resistance of metallic and polymeric materials, coatings and overlays (ISO 2812-1), but also the assessment of the corrosiveness of soils on steel and zinc surfaces, e.g. by measuring the specific soil resistance.
A subsequent evaluation of the results is carried out with our imaging and surface analytical methods, which we also applied to material characterization and failure analysis.
Please contact Dr. Irina Sieber or Prof. Dr. Christoph Strobl with your questions regarding corrosion and corrosion testing.
As the corrosion of metals is usually based on electrochemical redox reactions, electrochemical test methods can be used to ....
The electrochemical results can be supplemented by classical corrosion tests.
In aggressive soils, increased corrosion of metallic components can occur...
In addition to the classic and electrochemical corrosion tests, we also offer a further range of tailored and application-specific corrosion tests