Corrosion and corrosion testing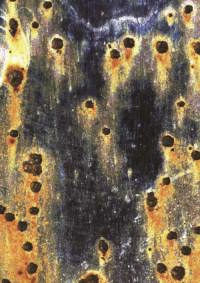 - Recognise - Understand -Prevent
Whether causal research or new developments, we support you with our expertise and knowledge in corrosion and corrosion testing.
Of first priority is to identify the requirements and/or environmental or application conditions of the components in order to select the optimal test for your specific application. With this knowledge, we can provide you with further support on development as well as expert advise regarding the use of optimal materials.
Our test program involves electrochemical characterization, classic standardized corrosion tests and requirement specific corrosion tests, also known as "tailored corrosion tests". These tailored corrosion tests fall outside standard norms and are created to meet your individual application needs. For example, analysis of chemical resistance of coatings and polymers is part of such request-specific corrosion testing.
A subsequent evaluation of the results takes place via our imaging and surface-analytical methods, which are also applied to material characterization and damage analysis.
Please contact Dr. Simon Oberhauser with your questions regarding corrosion and corrosion testing.